Mideast rift upstages Arab League summit
This weekend's Arab League gathering of Middle East and North African countries in Syria is expected to be a display in regional divisions.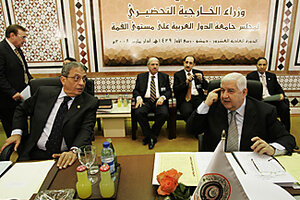 HUSSEIN MALLA/AP
Proclamations of a "united Arab effort" are inescapable on the streets of Damascus today. But as Syria prepares to host its first-ever Arab League summit, the gathering of states across the Middle East and North Africa has become an expression of division, rather than unity.
Syria is more isolated now than at any moment in recent history, publicly spurned by Egypt and Saudi Arabia – the traditional big Arab players – who are only sending low-level delegations to the prestigious gathering that opens Saturday. Lebanon is boycotting altogether.
The United States and its allies in Riyadh and Cairo accuse Syria of using its influence in Lebanon – particularly with the Hizbullah militant group – to block its adversaries next door from coming to power, and thus scuttling any political solution to that country's deepening factional crisis.
---
Follow Stories Like This
Get the Monitor stories you care about delivered to your inbox.