Basra fight widens rift among Shiite factions
In Baghdad Thursday, thousands protested the Iraqi government's battle with the Mahdi Army militia loyal to Shiite cleric Moqtada al-Sadr.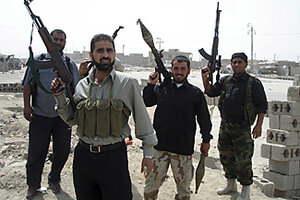 AP
Moqtada al-Sadr's powerful Shiite movement upped the ante Thursday in its battle with Iraqi government forces. Militiamen loyal to the young cleric refused to back down in their fight in the southern oil-rich city of Basra and his foot soldiers in Baghdad took to the streets in a show of force, calling for the resignation of Prime Minister Nouri al-Maliki.
The clock continues to tick away on Mr. Maliki's 72-hour ultimatum for Mr. Sadr's Mahdi Army militia to lay down its weapons in Basra or face all-out assault. At the moment, witnesses in Basra say there appears to be no sign of any letup in fighting between government forces and the Shiite gunmen, who are said to still control 75 percent of the city.
"We have made up our minds and we have waged this war and we will continue till the end. No retreat, no compromise, no accords," said Maliki during a meeting with local tribal leaders in Basra. He remains in the city to oversee the battle there that has killed at least 50 people so far.
The continuation of fighting marks a serious escalation in a long-simmering battle between Iraq's rival Shiite factions that pits Sadr, whose influence extends into key government ministries and spans across Baghdad and nine southern provinces, against factions allied to Maliki's Dawa Party such as the Islamic Supreme Council of Iraq and its affiliate the Badr Organization.
---