Sadr reins in Shiite militiamen, sends mixed signals
Battles continued to rage Sunday between the radical cleric's Mahdi Army and Iraqi and US forces.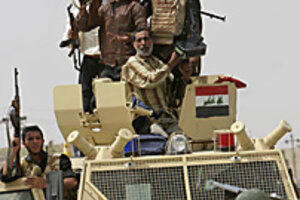 Nabil al-Jurani/AP
Shiite cleric Moqtada al-Sadr, the Iraqi religious leader whose Mahdi Army has been locked in a deadly battle with Iraqi forces, aided by the US military, in Baghdad, Basra, and other southern cities, called for a cooling-off period in a statement issued Sunday.
While the announcement was welcomed by the Iraqi government as helping its effort to "impose security" in Basra, the southern oil city, it appeared to conflict with other comments by Mr. Sadr, who told Al Jazeera Saturday that the US would be "defeated just the way they were defeated in Vietnam" and that his militiamen were on the path of "liberation."
It was too early to tell whether the statement, read in the holy city of Najaf, would end fighting in the south or in the capital. But contrary to initial reports, the US and Iraqi government campaign against the Mahdi Army, say officials and analysts, is a carefully coordinated effort by the US and Sadr's Shiite rivals to deal a decisive blow to the outspoken cleric.
---