Portrait of a veteran Iranian revolutionary
For the past half century, Zabihollah Bakhshi – a religious militant – has been center stage in nearly every Iranian fight or street protest.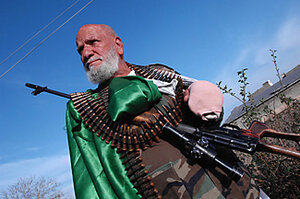 Scott Peterson/Getty Images
The white-bearded Iranian zealot knows the power of theater. For more than half a century, Zabihollah Bakhshi has been front and center in nearly every revolutionary action or pro-regime rally.
In Iran, he's an institution, a political cheerleader and professional militant. His battle scars include multiple wounds received in the Iraq-Iran war. His enduring and high-profile persona is a useful tool for hard-liners in Iran. It's also a window into the total commitment that remains – in some quarters, at least – for the 1979 Islamic revolution.
"In war, propaganda and spirit are the most important things," says Haji Bakhshi, as he is known here. "If they tell me right now that we must go for a protest, I will take off these slippers and run bare-footed! Because it's our revolution. Because it's our country. A person who does not love his country, who does not love his nation, is not human."
Bakhshi is proud of his decades of activism, even to the point of killing, he says, in the name of national pride and religious conviction. He's also been a vigilante. A 1996 report by the New York-based Human Rights Watch, described Mr. Bakhshi as a "strong-arm leader" who took part in the "violent activities of groups of religious zealots" that "targeted government critics and free-thinkers of all kinds, burning property, beating individuals and disrupting gatherings."
Today, his focus is the threat from Washington, where the Bush administration has not ruled out military strikes to stop progress of Iran's nuclear programs.
---
Follow Stories Like This
Get the Monitor stories you care about delivered to your inbox.