Rice trumpets progress in Middle East
Israel agreed Sunday to dismantle 50 West Bank roadblocks after talks with Secretary of State Rice.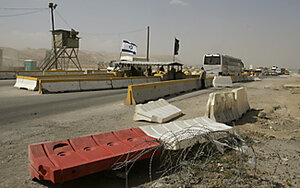 Sebastian Scheiner/AP
In a step toward realizing their pledge to broker a landmark Middle East peace deal by the end of 2008, US State Department officials said Sunday that Israel had agreed to remove some 50 West Bank roadblocks hindering Palestinian travel.
The announcement came as part of Secretary of State Condoleezza Rice's three-day visit here, during which she has been working to push Israeli and Palestinian leaders toward reaching an agreement on Palestinian statehood before President Bush leaves office.
Following the Annapolis peace conference that formally restarted the talks at the end of last year, Israelis and Palestinians committed to implementing commitments under the US-backed "road map" peace initiative that are considered prerequisites to the establishment of the Palestinian state.
"Today Palestinian Prime Minister Salam Fayyad and Israeli Defense Minister Ehud Barak agreed on concrete steps to implement the road map," US State Department spokesman Sean McCormack said in a statement issued in Jerusalem after Ms. Rice met with the two leaders.
---