In Israel, Ethiopian refugee helps others
Yohannes Lemma Bayu provides practical aid for what the government recently called a 'tsunami' of African asylum seekers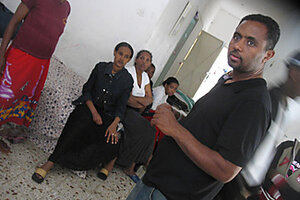 Joshua Mitnick
Yohannes Lemma Bayu arrived here on a tourist visa in 1997, fleeing his government in Ethiopia. It took him five years, a three-week hunger strike, and an order from Israel's Supreme Court to win political asylum.
"When I came here I considered Israel a developed democratic country that respected international law. It wasn't what I expected. There's no system for dealing with refugees," says Mr. Bayu, who responded by helping to found the nonprofit African Refugees Development Center (ARDC) in Tel Aviv. "After my experience, I realized there needs to be an organization to help others. We're focused on empowering refugees to take control [of their lives]."
As director of the center today, Bayu offers asylum seekers practical help as Israel struggles to cope with what Prime Minister Ehud Olmert recently called a "tsunami" of African migrants. What began two years ago as a slow trickle of refugees sneaking over the border from Darfur and southern Sudan has become a steady stream of illegal migrants – some 5,000 to 6,000 have overwhelmed Israel's prisons.
About half have been released, but save for several hundred Darfurian refugees to whom the government has granted residency, the Africans get no assistance or work permits from the government because they are considered illegal migrant workers.
---