Divided Cypriots unite to preserve ancient Famagusta
The history of the storied port is reflected in its French Gothic cathedral, Italian Renaissance palace, Byzantine church, and Ottoman madrassah-turned-restaurant.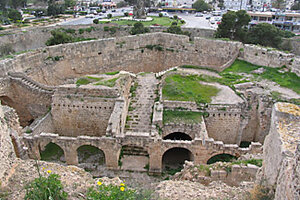 Courtesy of Allan Langdale
In its pulsating 14th-century heyday, this walled port was the region's richest city. Home to rich merchants and bejewelled courtesans, Famagusta's streets and markets echoed with Greek, Arabic, French, Hebrew – even Tamil and Norse.
The fabled setting for Shakespeare's Othello, it was also the seat for Jerusalem's exiled French Crusader kings. Later ruled by Italians and then conquered by the Ottomans, it testifies to a storied past. Within a few blocks stand a French Gothic cathedral, an Italian Renaissance palace, a Byzantine church, and an Ottoman madrassah-turned-restaurant.
"You have 2,000 years of historical architecture within reaching range. It's astonishing," says Allan Langdale, a Canadian art historian who recently made a documentary about Famagusta's beauty and plight.
Now, in a rare bicommunal project, the city's estranged Greek and Turkish Cypriot communities are uniting to preserve the ancient walled city's architectural treasures. So far, such efforts have been frozen by the politics of a divided Cyprus and a lack of funding.
Supporters hope the cooperative nature of the project will help overcome political hurdles, opening legal channels for foreign funding. In turn, they say, the project could boost reunification efforts for Cyprus by building confidence. In a symbolic step toward reunification, the crossing point on Nicosia's Ledra Street was to be opened Thursday.
"The people of Famagusta, Greek and Turkish Cypriots ... should join forces not only to save the past, but to build a future in a reunited Cyprus and Famagusta," Alexis Ghalanos, representative of Famagusta's displaced Greek Cypriot community, said at a meeting that launched the project in December.
---