Iraqi Olympians dodge violence and politics on the path to Beijing
A sprinter and an archer – two of the four Iraqis who have qualified so far – struggle to train amid sectarian divides and a dearth of equipment.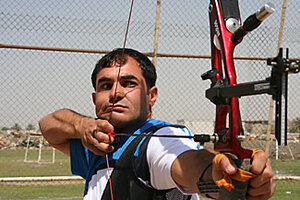 Sam Dagher
It's a glorious spring day and sprinter Dana Hussein Abdul-Razzaq is busy stretching and warming up ahead of her morning training routine. Nearby, under the shade of Baghdad University's leafy trees and giant palms, students of both sexes mingle and chat.
Normally, the young athlete – one of four Iraqis who have qualified so far for the 2008 Olympics – trains with her coach and her fiancé, also a sprinter, at Shaab Stadium on the edge of Sadr City. But the recent fighting there between militias loyal to Shiite cleric Moqtada al-Sadr and US and government forces has put the stadium out of reach. So she has turned to the relative normalcy of the university, dodging pockmarks left on the track by past mortar fire and sidestepping areas crushed by tanks.
For Iraqi Olympians, their achievement is a bittersweet moment, the fruit of perseverance in the face of divided and corrupt sports institutions and severe personal risk. Just two weeks ago, the deputy head of Iraq's National Olympic Committee, Raad Jaber, was killed, along with a famed basketball coach and referee, in broad daylight at a central Baghdad bus station. The committee's chief, Ahmed al-Samarraie, has been missing since July 2006, when he was abducted with almost 30 of his colleagues.
---