In Iraq, Sunni insurgents still aim to oust U.S., Shiites
In an interview, a member of the Islamic Army of Iraq speaks of his group's long-term goals.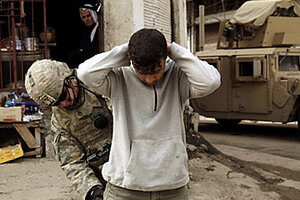 Maya Alleruzzo/AP
Abu Abdullah had slipped into the capital to pick up a stash of weapons, most likely smuggled here via Iran or Syria by an ever-multiplying number of dealers.
He arrived on March 27, just before a three-day curfew cleared city streets during fighting with the Mahdi Army in Sadr City. His aim, he said over a recent lunch of mazgouf, or grilled fish, was to make it out alive and return to western Anbar Province to rearm his compatriots in the Islamic Army of Iraq (IAI), a powerful Sunni insurgent group formed shortly after the US invasion.
This week, Gen. David Petraeus and US Ambassador to Iraq Ryan Crocker told Congress of two main threats to Iraq's stability: Iran-backed Shiite militias and Al Qaeda in Iraq (AQI). Little was said about the broader state of the Sunni insurgency, other than a fleeting mention by General Petraeus of the IAI in the northern city of Mosul and Mr. Crocker's reference to Syria "harboring individuals who finance and support the Iraqi insurgency." .
---