Gazan exiles dubious about Palestinian unity
Fatah partisans driven from the Gaza Strip by Hamas reject Palestinian reconciliation.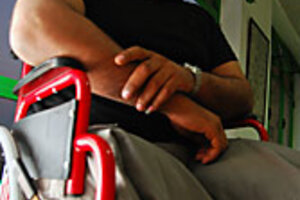 Adam Reynolds/Special to the Christian Science Monitor
A year ago, Thayer Hamdan was on duty as an officer in the Palestinian Authority's national security service in Gaza. Standing 6 feet, 4 inches, he seemed built for imposing law and order.
Now, at 22, he is a double-amputee, following the violent struggle in Gaza last June, in which Hamas seized control of all the military and political posts of the Palestinian Authority (PA), then controlled by Fatah.
Mr. Hamdan is one of dozens of men seriously injured in the virtual civil war who are now stuck in the West Bank, afraid to go back to their families in Gaza for fear of their lives.
"There isn't one among them who doesn't want to go back and be with his family – it's the only way to have their morale boosted," says Midhat Taha, who escaped from Gaza last June because he is an assistant to Palestinian President Mahmoud Abbas. Now, Dr. Taha is charged with helping the worst cases.
---