Hezbollah militants regroup amid war jitters
The Lebanese Shiite group is recruiting Sunnis, training in Iran for a possible second war with Israel.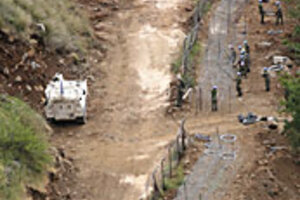 Lutfallah Daher/AP
In south Lebanon, where the 2006 summertime war between Israel and militant Shiite Hezbollah was played out, villages are abuzz with talk of another devastating conflict between the two archfoes.
Over the past few weeks, military activity on both sides of the border has contributed to war jitters as both Israel and Hezbollah are seemingly poised to strike.
The Israeli military just wrapped up a nationwide war drill it dubbed "Turning Point 2," and Hizbullah appears to have devised new battle plans that include cross-border raids into Israel and has mounted a sweeping recruitment and training drive, even marshaling non-Shiites and former Israeli-allied militiamen into new reservist units.
"The holy fighters are completely focused on the next war, even ignoring families and friends. They are just waiting for the next war," says Jawad, a Hezbollah fighter.
Still, many diplomats and analysts in Beirut say that neither side has an interest in coming to blows again, despite the buildup.
"The elements of conflict are still there, and it is possible that something small can get out of hand with neither side wanting it," says Timur Goksel, a university lecturer in Beirut and veteran observer of the Hezbollah-Israeli conflict. But, he adds, the heightened activity is "mainly posturing."
Hezbollah continues to recruit and train new combatants at a furious pace. Indeed, it has noticeably increased in the past two months, ever since the assassination in Damascus of Imad Mughnieh, Hezbollah's top military commander, sparked fears of a fresh war.
---