How many West Bank barriers will Israel forgo?
Sixty roadblocks have been removed in the Palestinian territory, but critics say that isn't enough to improve life in the West Bank.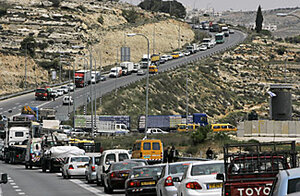 Peter Dejong/AP
Rimonim Junction, West Bank
This crossroads used to be a daily battle for Palestinian motorists, with traffic stretching a half-mile and wait time before inspection by Israeli soldiers longer than an hour.
Now, as a small step toward peace that included Israel's removal of 60 security barriers throughout the Palestinian territories, soldiers are gone from the road, and traffic between the northern West Bank and Jericho glides through the junction.
With Israeli and Palestinian leaders trying to negotiate a peace deal this year, the checkpoint trial brokered by Secretary of State Condoleezza Rice last month seeks to break the zero-sum equation between Israel's security and Palestinian economic prosperity.
Untangling the maze is intended to improve daily life for Palestinians and boost Palestinian Authority (PA) President Mahmoud Abbas at the expense of Hamas, his Islamist rival in the Gaza Strip.
Yet the military watchtower staring down at the Rimonim intersection highlights the Israeli army's domination of the West Bank and shows how tentative the gesture is.
"The soldiers are still here on the side of the road," says Hani Halawah, who said the daily commute between his village and Jericho was shortened from three hours to 40 minutes. "At least it gives hope to people that there is a possibility for achieving peace."
---