Iraq bombings target US-allied, anti-Al Qaeda groups
Bombings this week in Sunni areas of Iraqi have killed more than 100 people.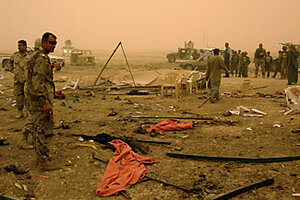 AP
A series of bombings this week in Sunni areas of Iraq – in some cases targeting the Awakening Councils, or sahwas, that have resisted the spread of militant Islamist extremism – is raising concerns that Al Qaeda in Iraq may be regrouping following recent defeats.
On Thursday, a suicide bomber struck a funeral for two brothers – killed the day before –who had joined the Awakening Council in Albu Mohammed, 90 miles north of Baghdad. The blast killed at least 50 mourners, many of them thought to be sympathizers of anti-Al Qaeda groups.
On Tuesday in Ramadi, Anbar Province's capital, a man walked into a restaurant, screamed "God is Great," and blew himself up, killing at least 10 people. On the same day, a car bomb in Baquba, capital of Diyala Province, killed 50.
New violence in Sunni areas follows a period of calm that had allowed US and Iraqi officials to venture that Al Qaeda in Iraq and other Sunni extremist groups were on the run. It also comes as the US has trained its sights on the Shiite militias threatening the Iraqi government's authority.
---