At Kuwait meeting, U.S. hope for regional aid to Iraq
The summit of Arab neighbors Tuesday is the third attempt to gain more support for Iraq's reconstruction from Sunni states. Baghdad's crackdown on Shiite militias may help.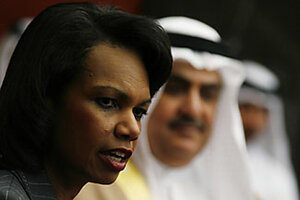 Hamad I. Mohammed/Reuters
Until now, US-Iraqi efforts to win the support of Sunni Arab countries have resulted largely in empty smiles and handshakes.
But when Iraq attends a third summit with its neighbors and international parties including the United Nations in Kuwait Tuesday, the US hopes to see Sunni Arabs, including Saudi Arabia, open genuine channels of cooperation with Baghdad. A key part of the US-Iraqi sales pitch: Iraq's Shiite-led government has taken on the country's powerful Shiite militias, demonstrating its willingness to crack down on sectarianism.
"Iraq is really now starting to find its footing internally, and it needs to have neighbors that are helping it to find its footing inside the Arab world," said Secretary of State Condoleezza Rice after meeting Prime Minister Nouri al-Maliki in Baghdad Sunday. On her way to the region Saturday, she said, "At some point the Arab states need to take yes for an answer."
---