Can the U.N. avert a Kirkuk border war?
The United Nations Assistance Mission for Iraq is expected to unveil a plan in May that it hopes will lead to a compromise over contentious land issues in oil-rich northern Iraq.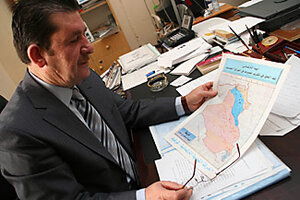 Sam Dagher
Kirkuk provincial council head Rizgar Ali says one proof of the province's "Kurdishness" is in the maps.
Several maps dating from the Ottoman and British colonial eras hang on his office walls showing the city of Kirkuk at the heart of a Kurdistan that spans parts of Iran, Syria, and Turkey. A 1957 map shows Kirkuk Province's original border prior to it being renamed Tamim and then altered by Saddam Hussein's Arabization policy.
But Ali Mahdi, a Turkmen leader here, has his own maps. His show the city of Kirkuk at the heart of Turkmeneli: the supposed home of Iraq's ethnic Turkmen population.
The vastly different ways that Iraq's ethnic groups view this province and its capital city, Kirkuk, illustrate the deep-rooted, complex, and potentially explosive issue of its status and the ongoing debate over Iraq's internal borders. In Kirkuk, the issue was supposed to have been decided by a constitutionally mandated referendum to take place by the end of 2007. The vote is delayed until June.
In the meantime the United States is using its leverage with all sides – Kurds, Turkmen, and Arabs – to keep the situation from blowing up into an all-out war for control here as the United Nations Assistance Mission for Iraq (UNAMI) works on a plan to broker a peaceful solution to the status of the province that is the home of northern Iraq's oil industry.
---