Israeli ex-soldiers expose abuse of Palestinians
In a report this week, 39 soldiers give eyewitness accounts from their patrols in and around the West Bank city of Hebron.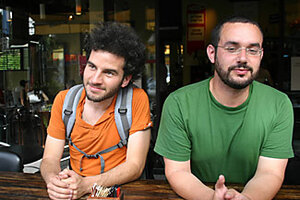 Lene R. Prusher
Doron Efrati was assigned to the Kfir Brigade, part of an infantry battalion that was especially created to serve in the West Bank following the outbreak of the second intifada.
He figured if he was going to be drafted anyway, he would agree to serve in the Israeli-occupied territories, "to see what really happens, and maybe to change things," he says. "But I didn't succeed."
Today, he is one of 39 recently discharged soldiers whose testimonies are part of a grim new report on the situation in the West Bank city of Hebron, where the Israeli Defense Forces (IDF) oversee a volatile population of 700 to 800 Jewish settlers living amid nearly 170,000 Palestinians. The 118-page report, which tells of systematic mistreatment of local Palestinians by both soldiers and settlers, was released during this week's Passover holiday.
The timing is not coincidental. Forty years ago this week, a small group of far-right religious Israelis, led by Rabbi Moshe Levinger, wrangled with a reluctant Israeli military establishment to hold a Passover seder in Hebron, revered as the burial place of several biblical patriarchs and matriarchs. Rabbi Levinger, who saw in Israel's 1967 military victory over the Arabs a heralding of a Messianic-era redemption, rented hotel rooms for himself and his followers the following Passover, and refused to leave. Today, his flock constitutes the only Jewish settlement inside a Palestinian city.
---
Follow Stories Like This
Get the Monitor stories you care about delivered to your inbox.