U.S. pushes utilities to counter Moqtada al-Sadr
US general in Baghdad says bringing basic services to Sadr City to weaken Sadr and his militia can work this time.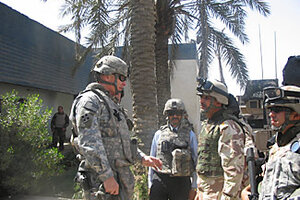 Howard Lafranchi
Maj. Gen. Jeffery Hammond, US commander in Baghdad, patted the hand of the Iraqi general who oversees government forces in Sadr City. He smiled, but delivered a firm message.
"Tell the mayor – the mayor of Baghdad, the big mayor – tell him we'll be here tomorrow morning at 9 o'clock, and we'll be very disappointed if he's not here. The prime minister needs this to happen," he said during a Friday trip to Sadr City. "We gotta get going."
General Hammond is pushing for services – trash pickup, medical care, water, electricity – for a southern slice of the volatile district. It's part of a US plan to win Iraqis away from Moqtada al-Sadr's sway. And they see a window of opportunity as fighting in Mr. Sadr's Baghdad stronghold shows signs of quieting.
While sporadic fighting continued Sunday, clashes with the Mahdi Army calmed after Sadr issued a statement Friday calling for the "patience" of his followers and for an end to bloodshed among Iraqis. He stepped back from his earlier threat of "open war until liberation," saying it was only directed at Iraq's "occupiers."
---