Is the Sunni-Shiite rift mostly politics and media hype?
A panel discussion Tuesday in Doha, Qatar, was dominated by the perception that the Western media hypes up tensions by focusing too much on the minority of radicals.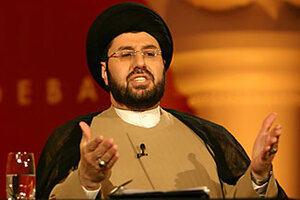 Courtesy of Adrian Haddad
As imam of the largest mosque in North America, Sayyed Hassan al-Qazwini feels the frustration of trying to convey a moderate image of Islam to a Western media seemingly fixated on extremists.
"When I speak, or other moderate Muslim scholars speak, we will not find any outlet for our words," he says. "But if a grocer in Karachi goes out on the streets and calls for jihad [holy war] against America, he will find many media outlets there ready to cover his insanity."
A televised public debate Tuesday in this tiny Gulf state was dominated by the perception that it is extremists – whether Islamic militants or anti-Islamic commentators in the West – coupled with a "sensationalist" Western media that set the parameters for defining Islam's global image.
Mr. Qazwini, the Iraqi-born imam of the Islamic Center of America in Detroit, was one of four panelists debating the motion "This house believes the Sunni-Shiite conflict is damaging Islam's reputation as a religion of peace." The event was part of the prominent Doha Debate series, hosted and funded by the Qatar Foundation, an educational nonprofit organization, and broadcast by BBC World.
---