U.S. death toll rises as it digs in against Iraq's Shiite militias
At least 47 US soldiers were killed in Iraq in April, making it the deadliest month since September. Many of the casualties are a result of the recent assault on the Mahdi Army.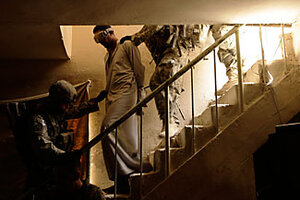 Maya Alleruzzo/AP
The American military's participation in the war declared by Iraqi authorities on Moqtada al-Sadr's Shiite militia – a fight that in recent weeks has been carried out through intense street battles – has led to an uptick in US deaths.
The month of April ended with at least 47 soldiers killed, the highest monthly figure since September, when 65 died.
"We have said all along that this will continue to be a tough fight," says Maj. Gen. Kevin Bergner, spokesman for Multi-National Forces in Iraq. "The increase [in US casualties] reflects the challenge our concerted effort [with Iraqi security forces] has faced as we work to keep Al Qaeda from reestablishing safe havens.… At the same time, we are acting alongside the government of Iraq as it goes up against these [Shiite militants] and criminals who are trying to establish themselves here in Baghdad and in other places."
Though still less than half the level of the worst months of a year ago, the April figure is a jump from recent totals that had gone as low as 23 in December, according to the Pentagon and the website icasualties.org that tracks coalition deaths in Iraq.
---