Women on two wheels: A Middle East dialogue tour
'Follow the Women' is a group of 250 female cyclists, from 26 countries, seeking to lay a foundation for peace.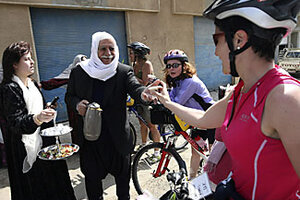 Hasan Sarbakhshian/AP
As President George Bush visits the Middle East this week, more than 250 women are spreading their own message for peace – on bicycles.
The "Follow the Women" bike tour kicked off in the mountains outside of Beirut on May 4 with women pedaling from nearly 30 countries, including Turkey, Iran, Europe, and the US. The group is cycling through Lebanon, Syria, Jordan, and the West Bank. The tour ends in the Palestinian city of Bethlehem on Thursday, May 15.
"We're hoping to dispel the myth that this region is only full of conflicts. We want to tell stories of the hospitality and the love of the people," says the tour's founder, Detta Regan of Berkshire, England. This year she's cycling with her two grown daughters, Pippa and Becky. "Meeting the people and watching how welcoming they are is always the best part."
Making its fourth annual tour of the Middle East, "Follow the Women" is not a race. It's not even about cycling for many participants – some learned to ride just to come on the trip.
It's become a means of intercultural dialogue, a forum on two-wheels allowing women to learn firsthand about life in the Middle East. As there are no Israeli cyclists, some participants say it should not be marketed as a solidarity ride, or peace tour, because it's not bringing women from different sides of the Israeli-Palestinian conflict together.
---