Lebanese Army steps into Beirut fray
Opposition Hezbollah fighters continue civil disobedience against pro-Western government.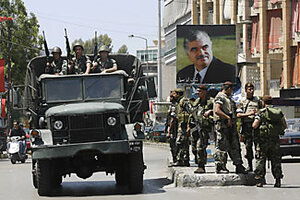 Mohamed Azakir/Reuters
A tense calm took hold in Lebanon Sunday after the government and the opposition, led by the militant Shiite group Hezbollah, reached a tentative agreement allowing the Lebanese Army to arbitrate controversial cabinet decisions that triggered recent violence.
The events of the past week, in which almost 40 people have died, demonstrated that Hezbollah clearly holds the balance of power on the streets and underlined the political limitations of the government and its allies.
But the Lebanese Army has emerged as a "critical player" in the crisis and represents a "factor of transition" in the new political reconfiguration under way in Lebanon, analysts say.
"I think what we have seen is the first soft Army takeover of power," says Rami Khouri, director of the Issam Fares Institute for Public Policy and International Relations at the American University of Beirut. "The Army has assumed significant power as it is funded and trained by the United States and receives political guidance by the Iranians [via Hezbollah]. It is the first Iranian-American joint venture."
---