Saudi Arabia's first women-only hotel: Is it progress?
Some say it's a sanctuary for business women. Others see it as another sign of gender segregation in a male-dominated society.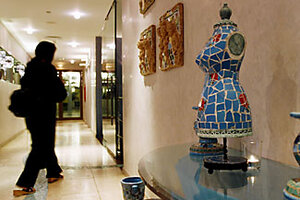 Hasan Jamali/ap
In Saudi Arabia's newest hotel, flickering candles in every corner enhance the serenity. And as you walk down royal-red halls, you'll notice something else: not a man in sight.
"It's women-owned, women-managed, and women-run – from our IT engineer to our electrical engineer," boasts Lorraine Coutinho, executive director of the Luthan Hotel & Spa.
To some, Saudi Arabia's first women-only hotel is a sign of progress, a place where women can conduct business without interference in a male-dominated society.
Until January, women could not check into any hotel alone unless accompanied by a male family member or they had written permission from a male "guardian." Now, the only requirement is that the hotel register the names of female guests with the police.
But others say the new hotel simply reinforces gender segregation in a nation that still doesn't let women drive.
"It's not good because maybe some people will try to make other hotels to keep ladies separate from the men," says Hasna al-Qunayeer, a professor of Arabic linguistics at King Saud University. "Always they will keep men and women separate."
Her daughter agrees.
"It's taking a step backwards," says Aseel al Bakr. "These religious clerics are trying to say that men and women [being] together could lead to adultery. And it's not true."
---