In literature, too, an Israeli-Palestinian split
Two first-time literary festivals – one Israeli, one Palestinian – coincided without a nod to the other, creating one more divide in a troubled land.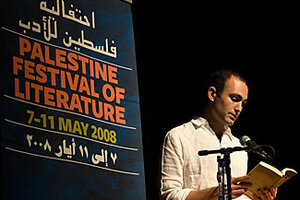 JAMIE ARCHER/PALESTINE LITERATURE FESTIVAL.
Two literature festivals that take place in the same moment, in the same land, have the same lofty goals: celebrating the written word.
But in this city that has drawn poets and produced prophets, this is the story of two literary festivals whose organizers never talk, a tale that reads like a new page in the Middle East book of missed opportunities, and a narrative that has the uncanny ability both to entertain and to sadden.
The story might begin here: Sunday night at the finale of the first Palestine Literature Festival, and a flock of local and international literati streamed into the Hakawati National Theatre in East Jerusalem. Or here: Sunday night at the opening of the first International Writers Festival in Jerusalem, and a flock of local and international literati streamed into Mishkenot Shaananim.
Or the story could start a few years back, with a few worldly and bookish women.
One of them is Yael Nahari. An Israeli who is Mishkenot's director of programs, she decided four years ago that she wanted audiences "to meet the people they love to read," and began inviting prominent authors who had been translated into Hebrew.
Another is Ahdaf Soueif, a renowned Egyptian novelist who lives in London, and who was commiserating with a British colleague about the situation here. "I said, half-jokingly, 'If they do a festival in Palestine, I'll go,' " says Ms. Soueif, author of "The Map of Love" and other novels, in a conversation with the Monitor as all the festival's writers and performers gathered in Azkadinya, an East Jerusalem restaurant, after the closing ceremonies.
---