In Israel, Bush outlines a blunt vision for the Middle East
At the Knesset on Thursday, the president spoke in visionary terms of Israel's future, saying that the core of the current regional conflict 'was an ancient battle between good and evil.'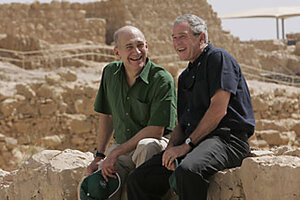 Susan Walsh/AP
President Bush, at the height of his Wednesday-to-Friday visit here to celebrate the 60th anniversary of Israel, stood before the Knesset and laid out a vision for the Middle East 60 years down the road: an Israel that still stands tall, lives next to a Palestinian state, and is surrounded by countries where democracy and human rights reign.
But his shorter-term vision, particularly in terms of his view of how things look today, sounded like a return to the stark rhetoric he became famous for in 2002 when he described Iran, Iraq, and North Korea as an axis of evil.
His prepared speech was also laden with religious imagery, mapping a spiritual and ideological picture of a close US-Israel relationship that seemed unprecedented in a speech by any US president, analysts say.
"This struggle is waged with the technology of the 21st century, but at its core it is the ancient battle between good and evil," Mr. Bush said Thursday in his official speech at the Knesset, Israel's parliament. "The killers claim the mantle of Islam, but they are not religious men," he said. "No one who prays to the God of Abraham could strap a suicide vest to an innocent child, or blow up guiltless guests at a Passover Seder, or fly planes into office buildings filled with unsuspecting workers."
---