Sunni backlash follows Hezbollah's strike in Lebanon
Sectarianism hardened in Lebanon after the Shiite militants clashed with Sunni groups. Talks in Qatar aim to resolve the crisis between Hezbollah and the Lebanese government.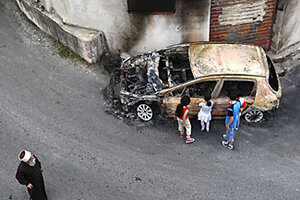 Steve Crisp/Reuters
Broadcast from loudspeakers attached to the local mosque, a fiery sermon of anger and resentment against the militant Shiites of Hezbollah echoed across the rooftops and surrounding wooded hills of this small Sunni-populated village.
"They said they were resistance against Israel, but now the mask has fallen, exposing their true faces," thundered the sheikh, his oratory just one of many similarly themed Friday sermons from dozens of other mosques scattered throughout the Sunni-dominated Iqlim al-Kharroub district between Beirut and the coastal city of Sidon.
"You hear that?" asked Mohammed Hajjar, a parliamentarian with the Future Movement, Lebanon's largest Sunni political party, sipping coffee in his garden a few hundred yards from the mosque.
"The people are furious about what happened and they are scared. All the time I have Future Movement people coming up to me, saying they want weapons. But our strategy is not to have weapons. We don't want a civil war."
Hezbollah's swift routing of Sunni groups during deadly street battles that started May 8 in Beirut has spawned an ominous backlash within Lebanon's Sunni community – one of anger, humiliation, and fear. While fighting lasted about a week, the result could see the influence of moderate Sunni leaders weaken as their constituents shift toward more militant groups – such as Al Qaeda and its adherents – as a perceived source of protection against powerful Hezbollah.
---