As Bush leaves Mideast, he gives Arab leaders a to-do list for reform
In Sharm el-Sheik Sunday, the president chided Arab leaders for lagging behind on democratic progress, in sharp contrast to a speech in which he praised Israel.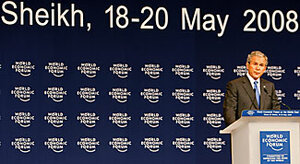 Ammar Awad/Reuters
President Bush's speechmaking on his five-day tour through the Middle East began with praise for Israel and concluded Sunday with criticism for the Jewish state's Arab neighbors.
"Too often in the Middle East, politics has consisted of one leader in power and the opposition in jail," he said at the annual World Economic Forum of the Middle East, a summit of influential politicians and business leaders, held here in Sharm el-Sheik.
The comment was taken as criticism for the host of the summit, Egypt, which is an important US ally. The United States has been quietly lobbying the Egyptian government for the release of Ayman Nour, who has been in prison since he came in a distant second to Hosni Mubarak in presidential elections in 2005.
"I call on all nations in this region to release their prisoners of conscience, open up their political debate, and trust their people to chart their future," said Mr. Bush.
While his message of freedom and democracy in the Arab world has been a constant during his administration, the words he delivered here chiding Arab leaders did not sit well with many, especially as they came on the heels of his laudatory remarks for Israel to mark its 60 anniversary.
---