Iraq's antiquities garner international attention
In wake of widespread illegal looting, Iraq and Western countries are attempting to better guard ancient cities from smugglers and prevent them from selling the artifacts.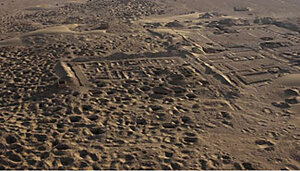 Iraqi Board of Antiquities and Heritage
Across southern Iraq, large stretches of terrain resemble a moonscape, the earth pocked by dozens of untidy craters.
The man-made holes have been dug as part of the looting of Mesopotamia's archaeological sites that experts say is robbing Iraq of its ancient heritage.
The looting not only funds unscrupulous dealers of artifacts, but also elements of the Iraqi insurgency. Experts say it has dwarfed the high-profile looting of Iraq's National Museum shortly after the US took Baghdad in 2003.
That rampage, carried out by dozens of Iraqis as US troops looked on, resulted in the loss of an estimated 15,000 museum pieces, ranging from statues to clay tablets. More than 6,000 of those items have been recovered as Iraq continues to try to bring back pieces that have made their way to foreign markets.
But the silent destruction of the vestiges of some of the world's earliest civilizations proceeds nearly unabated, museum experts say, and could prove damaging to the chronicling of Iraq's storied heritage.
"The looting of ancient sites is an old problem, of course, but this phenomenon has accelerated since the invasion of Iraq and the general insecurity that has left so many sites with no protection," says Qais Hussein Rashid, director of research and antiquities excavations for Iraq's Board of Antiquities and Heritage. "We feel we are losing many of the keys to our past and the many pieces that together make up our heritage."
Iraq has more than 12,000 significant archaeological sites, dating back to 2500 BC at Kish, near ancient Babylon.
---