Qatari deal defuses Lebanese crisis
The agreement gives Hezbollah and the opposition allies of the Shiite militants enough control in the government to have veto power over legislation.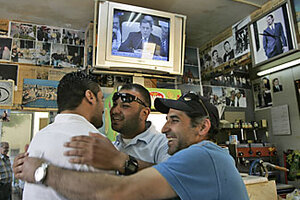 Hussein Malla/AP
After 18 months of living on the streets in an encampment that has paralyzed this city's downtown, Lebanon's opposition supporters started going home Wednesday.
They dismantled their tents hours after rival factions signed a deal in Qatar giving militant Shiite Hezbollah, its opposition allies, and partisans in the street what they have been holding out for: more power.
The deal, achieved after intense mediation by Qatar, calls for the appointment of a new president, Lebanese Army Gen. Michel Suleiman, and gives the opposition veto power over government decisions.
The accord ends a deadlock that has contributed to brutal flashes of violence. But it also demonstrates that Iranian- and Syrian-backed Hezbollah now holds the political and military balance of power in Lebanon.
"The agreement we reached is an exceptional agreement amid exceptional circumstances for an exceptional phase," Lebanese Prime Minister Fouad Siniora said at a news conference in Doha, the capital of Qatar.
The heated negotiations began Saturday after Lebanon's top leaders were flown to Qatar and corralled in a hotel to forge an agreement to end a year-and-a-half deadlock that culminated two weeks ago in the worst sectarian violence to rack the country since the end of the 1975-90 civil war.
The Doha accord calls for the immediate election by Lebanon's parliament of General Suleiman, who is the declared consensus candidate of both sides. The Lebanese parliament is excepted to convene Sunday to vote in Suleiman.
The second clause calls for the formation of a 30-seat national unity government in which the anti-Syrian March 14 political bloc, which forms the parliamentary majority, is allocated 16 seats and the opposition 11 seats. The remaining three seats will be filled by ministers of the president's choosing.
---