Palestinian cell service still on hold
Mobile phone service in Gaza Strip and the West Bank could spur investment – and bolster prospects for peace.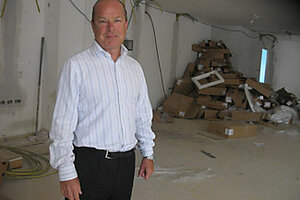 Joshua Mitnick
After getting Iraq's first post-invasion cellular phone network operational in four months, Allan Richardson expected that launching the second Palestinian mobile service would be easy.
But nearly a year and a half after arriving here, the chief executive officer of Wataniya Palestine Telecom is still waiting for Israel to release cellular frequencies.
The delay has held up a $650 million investment in the Palestinian economy and the creation of 2,500 jobs in the midst of double-digit unemployment.
Many see Wataniya as a test case of whether the Palestinian economy can recover: Success could spur the prosperity negotiators hope will build support for a peace treaty. But continued delay is likely to deter entrepreneurs, perpetuating the conditions that sow extremism.
For now, the Mr. Richardson remains optimistic. The native Scotsman walks through an empty office floor that will be the location of the call center.
"You can do business here," he says. "It's difficult, but it can be done. You've got an economy here which is like a bottle that is corked up."
Last week, those concerns were the focus of discussions among more than 2,000 participants at an investment conference in Bethlehem.
Guards with AK-47s secured the gleaming convention center as entrepreneurs and investors debated whether now is the time to invest in the West Bank or Hamas-controlled Gaza Strip.
Sam Bahour, a Palestinian-American business consultant who lives in Ramallah, said the conference successfully applied pressure on Israel to ease restrictions on Palestinian businesses.
---