Israeli Prime Minister Olmert faces increasingly precarious tenure
Corruption allegations by a US businessman have prompted the defense minister to call for him to step down.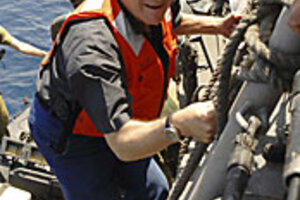 Reuters
Ehud Olmert's shelf life as prime minister was diminishing rapidly on Wednesday, as his most important political ally called on him to step down amid new testimony indicating that he received stacks of cash from a New York businessman. The ensuing turmoil means the Israeli political system will be embroiled in a leadership search and coalition geometry for months, likely overshadowing hoped-for peace initiatives.
Defense Minister Ehud Barak on Wednesday called on Mr. Olmert to leave office, following a day of deeply damaging, pre-trial deposition in which Morris Talansky, a donor and longtime supporter of Olmert's, acknowledged giving the now-prime minister $150,000, stuffed into envelopes, since the early 1990s. Mr. Talansky said in his testimony that Olmert encouraged him to finance his election campaigns, but that he also helped Olmert stay in luxury hotels, fly first-class, and go on European vacations.
Mr. Barak's press conference at the Knesset on Wednesday afternoon, in which he said Olmert must immediately recuse himself from running the government in order to deal with his personal problems, provided the strongest indication yet that Olmert's longevity as a prime minister is increasingly in peril, and that new elections could be expected to be held soon.
"I do not think the prime minister can run, in parallel, the government and deal with his own personal affairs," said Barak, who is the leader of the left-leaning Labor party, Olmert's major coalition partner, and a former prime minister.
"Out of a sense of what is good for the country and in accordance with the proper norms, I think the prime minister must disconnect himself from the daily running of the government," Barak added. "He can do this in any of the ways open to him – suspension, vacation, or resignation, or declaring himself incapacitated. We will not be the ones to determine this."
---