Rogue Sadr militias roam Baghdad
A Mahdi Army truce holds most of the Shiite cleric's forces in check. But some terrorize residents of Risala, a Baghdad neighborhood.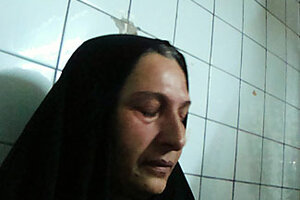 Anna Badkhen
Nadir Hamid Shamkhi has not stepped outside since March 24, when she retrieved her kidnapped husband's tortured body from a Baghdad morgue, buried him, and fled to her relatives' house in Risala – a slum in southwestern Baghdad.
Ms. Shamkhi is counting on the black Shiite flag that flies from her sanctuary's roof to protect her from the militants. But she is not certain it will. Too afraid of being recognized in the streets by members of the Shiite militia that killed her husband, she hasn't even filed a claim with the government to receive the $1,800 compensation for his death.
American commanders say Risala is a stronghold of Shiite militias that have splintered from the Mahdi Army of anti-American cleric Moqtada al-Sadr. Though Mr. Sadr's army agreed to a cease-fire with Iraqi government forces on May 11, the offshoots in Risala have not abided by it and are using this area as a staging ground for mortar and rocket attacks on two American bases in the capital.
The US relies heavily on informers to come forward with information about the militants in a bid to thwart the militias. But widespread fear of retribution stops most Risala residents from helping the US forces crack down on the militias.
"People have said: 'We don't want your tip cards' [leaflets with a number of an anonymous telephone line to report suspected militant activity ]'because if we're caught with them we'll get killed,' " says US Army Capt. Sean Chase, from Seattle, Wash., who is stationed in Risala.
---
Follow Stories Like This
Get the Monitor stories you care about delivered to your inbox.