U.S.-Iran regional power plays shift
Iran's 'axis of resistance' may seem ascendant, but new chances for peace could redefine game in US's favor.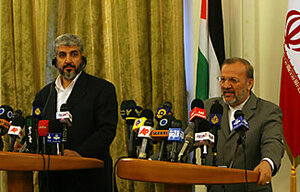 Hasan Sarbakhshian/AP
A string of events across the Middle East is shifting the US-Iran regional power play. The Iran-led "axis of resistance" arrayed against the US, its Western allies, and Israel may appear ascendant, but new chances for peace could also redefine the game in the US's favor.
Syria and Israel announced last week that they had secretly resumed talking peace, through Turkish mediators, for the first time in eight years – each one crossing a divide forbidden by their own rhetoric. Few expect immediate progress. But the fact that a strategic ally of Iran – and of anti-Israel militants Hezbollah in Lebanon and Hamas in Gaza – is meeting with Israel is prompting speculation about potential change.
"There is a contest going on, an ideological battle, which spills over into proxies and military fighting," says Rami Khouri, head of the Institute for Public Policy and International Affairs at the American University of Beirut in Lebanon. "It's not as simple as saying it's an Iran-American confrontation, but they are the two symbolic poles of these different groups."
---