In Turkey, a lone peacemaker ends many blood feuds
Since giving up his butchering business 10 years ago, Sait Sanli has helped settle 446 disputes – some stretching back decades.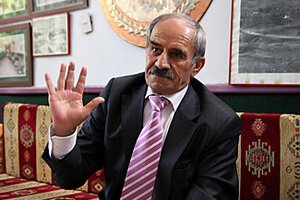 Yigal Schleifer
Here in southeastern Turkey, where blood feuds are still common, even the smallest incident – a cow wandering into a neighbor's field, for example – can lead to a protracted or even fatal dispute.
So when the mayor of the village of Carikli recently shot a political rival in the leg, local leaders knew they needed outside intervention – fast. Sait Sanli, an elfin former butcher with a pocketful of peace treaties, was their man.
"We were afraid that this situation would explode, so we immediately came to Sait," says Ibrahim Ozdal, the wounded politician's nephew, during a visit to Mr. Sanli's office in Diyarbakir. "Everybody in the area knows that he's the first person to come to when something happens. He's the ambassador of peace."
Inside Sanli's jacket pocket is a stack of papers bound with a rubber band and filled with names of people he has helped – 446 blood feuds ended since he gave up butchering a decade ago, by his estimate. His waiting list of disputes to be settled has 67 families on it.
"The cost of the suffering that these feuds cause cannot be estimated. One person may be killed, but the lives of 100 people are affected," says Sanli. "When one person commits a crime, every one of their relatives is responsible." "We are really suffering here from a gap between the official law and traditional law," he adds. "What I'm trying to do is fill in that gap, to prevent things from escalating. I'm a messenger."
---