Isolated Jenin opens to some cross-barrier traffic
Once a militant bastion, the West Bank city is now open to visits from Israeli Arabs. The move could help bolster the peace process and provide a much-needed economic boost.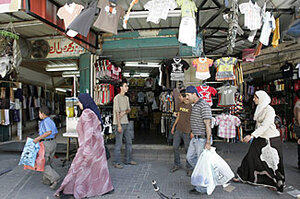 Mohamad Torokman/REUTERS
Once reputed as the cradle of suicide bombers, this northern West Bank city was the first Palestinian region that Israel sealed off by building its controversial separation barrier.
But now, with militant gangs subdued and local police units fighting crime, for the first time in years Israeli Arabs like Iyad and Munah Sbeihad are being allowed to make day trips to Jenin to shop and visit relatives after years of separation.
Prodded by the United States, the Israeli army and a reinforced Palestinian security force have tightened their security cooperation, attracting a stream of foreign dignitaries who are directing millions of dollars of aid to stoke renewed economic prosperity in the region.
The goal is to shore up the Palestinian Authority from the kind of chaos that gave way to Hamas's takeover last year in Gaza.
"It's a pretty big deal," says David Makovsky, a senior fellow at the Washington Institute. "Jenin was the archetype during the uprising as the place that was the most dangerous. Now, ironically, it is the most quiet area. It's kind of a symbol: if you make it there you can make it anywhere."
---