Low profile for Secretary Rice's Israel visit
In Israel, the media focused on possible breakthroughs in which the US played no role, highlighting low expectations for Rice's trip.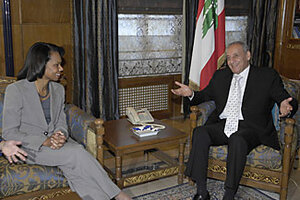 Ahmad Omar/AP
Condoleezza Rice came here this week for the 20th time since becoming secretary of State, and left town having offered many of the same statements made on previous Middle East peace missions: that Israelis and Palestinians should follow their road map obligations; that the Palestinians must fight terrorism; and that the Israelis must stop building settlements.
But the local media have virtually lost interest in the visit of a US secretary of State, an event which in the past had always built expectations of progress in the peace process, and always made the front page.
The dearth of coverage – and the focus instead on security developments other than those between Israel and the Palestinian Authority, a track in which the White House has invested deeply – is an indication of how low expectations are for any peace breakthrough before the end of President Bush's administration.
Israel's two mass-circulation dailies, Maariv and Yediot Aharonot, did not cover Secretary Rice's visit. Haaretz, the progressive broadsheet, filled its front pages with expected breakthroughs in which US officials play no role.
---