U.S. says Baghdad bombing was meant to reignite sectarian violence
The military blamed a little-known Shiite cell leader for Tuesday's attack in the Shiite neighborhood of Hurriyah that killed at least 63 people.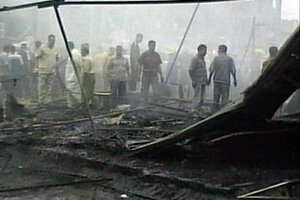 APTN/AP
The US military has blamed a little-known Shiite cell leader for the worst bombing attack to hit the Iraqi capital since March. Tuesday evening's attack struck a marketplace in a predominantly Shiite neighborhood leaving at least 63 dead and wounding more than 70.
The truck bombing in Hurriyah shatters a relative calm in Baghdad that has seen the number of attacks against Iraqi civilians as of mid-June drop by 86 percent compared with a year ago, according to US military figures.
Based on intelligence "corroborated through multiple sources," the US said the Hurriyah attack was masterminded by Haidar Mehdi Kadhim al-Fawadi, a wanted leader in the so-called Special Groups (SGs). A military spokesman said the bombing was intended to reignite Sunni-Shiite violence in a section of the city that saw some of the worst episodes of sectarian-motivated murders, bombings, and mass evictions of Sunni Arabs from 2005 to 2007.
"His intent was to disrupt Sunni resettlement in Hurriyah in order to maintain extortion of real estate rental income to support his nefarious activities," said Lt. Col. Steve Stover, a US military spokesman in Baghdad, in an e-mail sent to reporters.
America has long charged that the SGs were rogue elements of the Mahdi Army militia of Shiite cleric Moqtada al-Sadr being trained, equipped, and sheltered by neighboring Iran and responsible for sophisticated and lethal roadside bombings using armor-piercing explosives that have killed many US soldiers.
---