As Gaza cease-fire holds, Israel eases economic blockade
Some analysts says that Hamas's ability to enforce the Egyptian-brokered truce with Israel could widen international acceptance of the militant Islamist organization.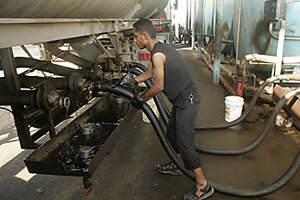 Ismail Zaydah/Reuters
After three days without a single shooting violation of an Israel-Hamas cease-fire, Israel on Sunday boosted supplies of food and medicines into the Gaza Strip by about 50 percent and said it's considering further relaxations of the months-long siege on the war-weary enclave.
For all the official playing down of the Gaza cease-fire declared Thursday between Hamas and Israel, as well as predictions of its imminent demise, the agreement may mark a break with a long-standing Israeli and American boycott of the Islamic militant organization.
Israel's de facto recognition of Hamas's rule in Gaza, analysts say, holds the prospect of widening international acceptance for the organization, giving it a compelling incentive to keep up its end of the bargain.
"This is the power that Israel has to deal with," says Meir Javedanfar, a Tel Aviv-based Middle East analyst. "It's not full diplomatic recognition, but Israel has recognized Hamas as an important party – on some issues it can't be avoided.
"Israel is showing that its past policy of refusing to talk to militant organizations, something which it has been preaching to the US, is not always functional," he adds. "Jerusalem has realized that talking to its enemies is the shortest and most cost-effective path militarily, economically, and strategically."
---