Saudi Arabia to boost oil output. Will gas prices fall?
At a rare meeting Sunday, some oil-producing nations tried to stabilize prices – and Western concerns over a recession.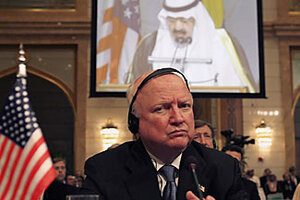 Ali Jarekji/Reuters
Saudi Arabia will produce more oil – if customers need it – the kingdom's oil minister promised Sunday.
For the remainder of the year "Saudi Arabia is willing to produce additional barrels of crude oil above and beyond the 9.7 million barrels per day which we plan to produce during the month of July," Oil Minister Ali al-Naimi said at a rare meeting of the world's top energy officials in this Red Sea port town.
The unusual gathering was called by the Saudis to draw up a plan of action to address the unprecedented rise of oil prices and to defuse what Saudi officials see as an alarming political backlash against oil-exporting nations.
Mr. Naimi also said Sunday that the kingdom was willing to invest to boost its spare oil production capacity above the current 12.5 million barrels per day planned for the end of 2009, reversing previous statements that the country would not go beyond that figure.
"In addition, we have identified a series of future crude oil megaincrements totaling another 2.5 million barrels per day of capacity that could be built if and when crude oil demand levels warrant their development," he said.
The world's biggest oil producer has already announced modest increases (300,000 barrels in June, and 200,000 in July) but those steps have not done much to stem the skyrocketing price of oil, which closed near $135 a barrel on Friday.
Politicians and financial analysts, however, say there is no quick fix for the coincidence of complex economic factors pushing oil prices up.
"We [have] been 30 years digging ourselves into this hole, and this is not something we're going to be relieved of in any short term," US Energy Secretary Samuel Bodman told reporters here.
---