Iraqi passions turn to soccer – for 90 minutes
On Sunday, Iraqis focused on their country's struggle on a soccer field in Dubai instead of the war on the streets.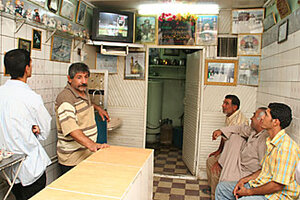 Sam Dagher
Iraqis stopped paying attention to war for a little while Sunday. Instead, they turned to the country's other preoccupation – soccer.
And here in Amara, where the government mounted a major offensive against Shiite militants last week, men and boys clamored for views of the televisions at riverfront cafes. And as the sun was fading, they began cheering on their countrymen who were fighting to advance in Asian 2010 World Cup qualifying.
Even Iraqi soldiers from Baghdad and other provinces took a break from chasing Moqtada al-Sadr's Mahdi Army militiamen or looking for weapon caches.
In the end, Qatar advanced and won 1-0. But for at least 90 minutes it wasn't war that drove Iraqi passions, it was the battle over a ball on a Dubai soccer field.
Before the game, people started taking front-row seats. Songs cheering the national blared from giant speakers.
Crowds swelled as the game started. At the South Casino (cafes here are inexplicably called casinos, although there is no gambling or drinking), soldiers in camouflage lounged on chairs smoking water pipes and eating pumpkinseed. Others crowded nearby at a food stand selling grilled kabobs.
As the game progressed without an Iraqi goal, the crowds at the next-door Najmawi Casino grew restless. When the ball came anywhere near the goalpost, they jumped, whistled, and cheered. All were false alarms. But suddenly hope rose. They glimpsed the team's star, Younis Ahmed, stretching on the sidelines. But because of an injury he never made it onto the field.
---