Can Lebanon douse political fires?
Fighting in Tripoli is indicative of rising Sunni-Shiite tensions as the formation of a new government hits an impasse. Religious leaders called for calm Wednesday.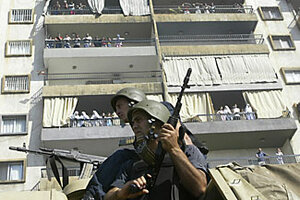 Omar Ibrahim/Reuters
Thick black smoke billows out of the shattered windows of a small house on the edge of the Jabal Mohsen district in this city as a fireman directs water into the burning building.
Several other houses nearby also smolder from a spate of arson attacks that are keeping tensions high between the mainly Alawite (an offshoot of Shiite Islam) residents and their traditional rivals in the Sunni quarter of Tebbaneh.
The smoldering fires are an apt metaphor for tensions now threatening a rare breakthrough in this country's governance.
Five weeks ago, Lebanon's feuding political bosses reached an agreement that ended some of the worst internal violence in nearly two decades. Qatar brokered a deal that allowed for the election of a new president and was meant to end 19 months of political deadlock.
But the formation of a new national unity government has hit an impasse. Rival politicians are squabbling over the distribution of cabinet portfolios, and tensions are building once more in flash points around the country.
Some observers also worry that Lebanon, like Iraq, could become a new battleground between Sunni and Shiite extremists. The week-long street battles in Beirut in May – between the militant Shiite Hezbollah and Sunni supporters of the Future Movement – have aggravated simmering tensions between Sunnis and Shiites. But others suggest that these are largely local disputes.
"Differences among the Lebanese have reached the edge of suicide," warned Michel Suleiman, the new president, at a meeting Wednesday of Lebanese spiritual leaders who convened at the presidential palace to discuss how to address the friction.
---