U.S. forces to hand over hard-won Anbar Province
The Americans are set to transfer control of the once-restive Sunni province to Iraq, but many in Anbar question just how much real power the US is willing to relinquish.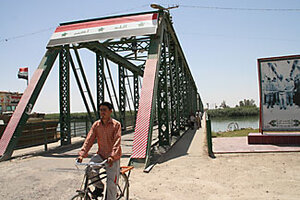 Sam Dagher
This is a city literally rising from the ashes. While reminders of two major US assaults here in April and November 2004 are inescapable, signs of rebirth are plenty. Men in jumpsuits busily work on construction sites, sewers are being installed, and a hospital is nearly completed.
Now, the US military is poised to return to Iraq control of this city and the rest of Anbar Province, once a haven for Sunni insurgents and Al Qaeda in Iraq (AQI) fighters. In the past two years, a strategy of turning tribal leaders against AQI worked and led to a significant turnabout for the Americans.
But the danger, however, is not completely gone. On Thursday, an AQI-linked suicide bomber killed at least 20 people, including three US Marines, in the Anbar town of Garmah. And on the streets of Fallujah, doubts remain among both average Iraqis and some local officials about whether the US is really prepared to see Iraqis control Anbar.
A handover ceremony was supposed to have taken place Saturday in Anbar's provincial capital, Ramadi. It was postponed because high winds and dust storms would have prevented top US and Iraqi officials from flying in from Baghdad, 70 miles away. The US military said Thursday's bombing did not cause the delay.
---