Iraq opens door to foreign bidding to increase oil output
Exxon Mobil, Chevron, and Shell are among the prequalified companies vying for contracts.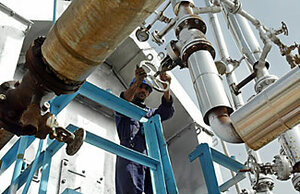 Newscom/file
Iraq has invited 35 prequalified foreign companies to bid on contracts for the further development of six existing and operational oil fields and two gas fields. The Monday announcement, it says, is a bid to boost output levels by about 80 percent to 4.5 million barrels per day (b.p.d.) by 2013.
The move, while vitally important to rebuilding this country's war-shattered economy, is expected to stoke more controversy over the future of Iraq's oil industry and raise many questions regarding unresolved oil legislation, experts say.
Six of the prequalified companies – British Petroleum (BP), BHP Billiton, Chevron, Exxon Mobil, Shell, and Total – were already involved in noncompetitive negotiations with the Ministry of Oil to finalize service and consulting contracts seen as granting them a strong foothold in the country and a competitive edge over the others.
Major oil firms have been positioning themselves for years to gain access to Iraq's vast oil reserves, which are estimated at 115 billion barrels – the world's second largest after Saudi Arabia.
The news of those early negotiations between major oil and the government returned to the forefront here the debate that America's true motives for invading Iraq in 2003 were about oil.
A group of US senators wrote last week to Secretary of State Condoleezza Rice urging her to ask the Iraqi government to postpone signature of any oil contracts until there is agreement in Baghdad on a national oil law, stalled since late 2006.
---