A 'surge' unit sees change, but questions its permanence
As the US Army soldiers of the 1st Battalion, 64th Armor Regiment prepare to return home this month, many question whether the sacrifices they made will have been worth it in the end.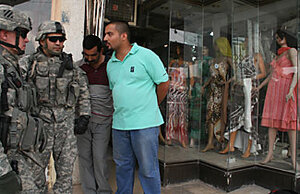 Sam Dagher
After almost 15 months of its longest, deadliest, and most unconventional deployment, the 1st Battalion, 64th Armor Regiment of the US Army is packing up to leave Iraq.
When it goes home to Fort Stewart, Ga., this month, the unit will be among the last to return from the "surge," Washington's move to calm the sectarian bloodshed that had consumed Baghdad and much of Iraq.
In many regards, the plan worked. Violence dropped as about 30,000 extra US soldiers moved into combat outposts around Iraq starting in February 2007. Last month, the number of Iraqis killed was 515; last June, that figure was 3,000.
Still, while the 1/64 recognizes much progress during its tour, the majority of the more than dozen soldiers and officers interviewed question if their effort will have been worth it in the end. Many say their mission helped bring about only a lull in the sectarian killings and feel that neither the Iraqi government nor its forces are ready, capable, or even motivated to build on the successes of the surge.
"We have no control over what happens once we leave. No one is prepared to stay here 20 years of their lives to make sure this place stays good," says Spc. Mark Webster, a native of San Luis Obispo, Calif., stationed at the neighborhood garrison of Adel. These combat outposts (COPS) have been scattered throughout Baghdad since the start of the surge. "We have accomplished things; we kept it at a general lull," adds Specialist Webster.
---