Saudi king set to lead rare interfaith talks in Spain
The three-day conference of religious leaders will start July 16 in Madrid.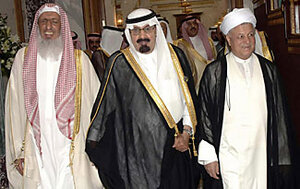 AFP/Newscom/file
In a first for a Saudi Arabian leader, King Abdullah will convene a conference in Madrid as part of a Saudi outreach to defuse interfaith tensions, improve Islam's image, and restore respect for religious values.
King Abdullah's initiative – a three-day meeting starting July 16 that will include Muslim, Christian, and Jewish clerics, as well as representatives of Eastern religions – stands out among interfaith gatherings that have become commonplace in the post-9/11 world.
Not only is Saudi Arabia the birthplace of Islam, but it also is the wellspring of an austere, exclusivist version of Sunni Islam. Sometimes called Wahhabism, it bans the open practice of other faiths in the kingdom and tends to reject inter-religious dialogue with non-Muslim "infidels."
Ever since the kingdom experienced its own terrorist attacks in 2003-04, however, Abdullah and other officials have been stressing a more moderate, tolerant expression of their faith, sometimes over opposition from hard-liners in the religious establishment.
He has, for example, organized dialogues between Sunni and Shiites, who are regarded as heretics by hard-core Wahhabis.
Some observers see the international conference – first broached by Abdullah in March – as a way to strengthen his hand against extremist elements at home.
"It's very difficult to deal with [the radicals]) on an intellectual basis, to open up their minds," says Shiite political activist Jafar Al Shayeb. "So having these Muslim scholars from all different parts of the world pushing for a more tolerant course, I think will help the government in dealing with radical groups internally."
---