Shebaa Farms: key to stability?
Claimed by Lebanon and occupied by Israel, it will get new attention as the two countries' last remaining major dispute if a Hezbollah-Israeli prisoner swap is successful.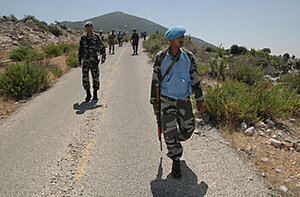 Nicholas Blanford
A tiny sliver of rugged mountainside wedged between Lebanon and the Israeli-occupied Golan Heights is being reassessed by the United States and Israel as a potential key to stabilizing the last frontline in the Arab-Israeli conflict.
The Shebaa Farms, claimed by Lebanon and occupied by Israel since 1967, lies at the nexus of major developments in the Levant, including the potential disarming of Hezbollah, the progress of indirect peace talks between Israel and Syria, and future bilateral relations between Beirut and Damascus.
"For the Israelis, the Shebaa Farms is a bargaining position, part and parcel of the negotiations with Syria over the Golan Heights," says Timur Goksel, a university lecturer in Beirut and former official with the UN's south Lebanon peacekeeping force known as UNIFIL. "In Lebanon, it's part of Hezbollah's agenda [to liberate the area], while some [Lebanese] parties see its return as a prelude to the disarming of Hezbollah."
---