Fewer gunmen and bribes as Iraqi students take finals
Authorities boosted security after last year's tests were marred by widespread lawlessness and mass cheating.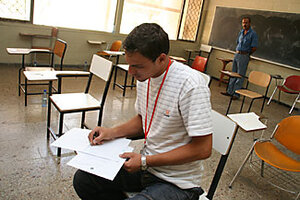 Sam Dagher
A group of anxious-looking Iraqi mothers huddled behind concrete barriers and concertina wire in the shadow of two Iraqi police pickup trucks. In the distance, US military vehicles could be seen patrolling the neighborhood.
One mother shut her eyes and started muttering prayers while clasping a string of worry beads between her hands.
This was the scene Monday outside a school in Baghdad's Baiyaa neighborhood, where hundreds of Iraqi teenage girls took a chemistry exam as part of the standardized national exams for high school diplomas held this time each year. The exams, which started on June 26, will end on Wednesday.
Last year's tests were marred by unprecedented incidents of mass cheating, bribe-taking, and sheer lawlessness. In many places, militiamen and insurgents strolled casually into exam centers and forced officials, often at gunpoint, to allow cheating. But this year, aided by the fact that most Baghdad neighborhoods have been turned into walled compounds protected by US and Iraqi troops, authorities took often draconian measures to avoid a repetition of such scenes.
"Last year, the outlaws took advantage of the brittle security situation and caused unprecedented chaos during the final exams. It was truly a mark of utter shame on our education system as a whole," says Ibrahim Abdul-Zahra, a proctor overseeing a geography high school exam at Baghdad University Monday.
---