Amid Iran's tests, signs of weakness
Evidence mounts that international sanctions are having an impact.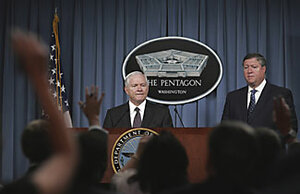 Lawrence Jackson/AP
With Iran reporting a second day of missile tests this week, it appears to be intent upon signaling to its adversaries – primarily the United States and Israel – that it is prepared to meet and match both provocations and any eventual attack.
But the show of force, which Thursday reportedly included missiles test-fired from ships in the strategically sensitive Persian Gulf, may also be part of an attempt to cover over Iran's weaknesses and to draw attention away from signs that the international community's efforts to curtail Iran's nuclear program are having an impact.
Almost lost in an aggressive verbal exchange that continued Thursday – with a reminder to Tehran from Secretary of State Condoleezza Rice that the US will defend its interests and allies – was an announcement by French energy corporation Total. It said it was canceling plans to invest in Iran's energy sector by developing one of Iran's natural gas fields.
European companies like Total and banks working with Iranian business interests have come under increasing pressure to conform to international efforts, including United Nations sanctions and separate US and European Union sanctions, aimed at halting Iran's uranium-enrichment program.
---