Palestinians: Let us tame wild Jenin
The West Bank city of Jenin has been officially handed over to Palestinian control, but the Israeli army still goes in to arrest and assassinate militants.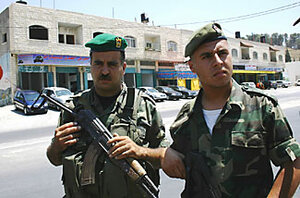 Ilene R. Prusher
Throughout most of the decade, Jenin has been synonymous with what Palestinians generally call fawda: a mix of chaos with the might of gun-toting militants trying to impose their own brand of law and order.
Today, the Palestinian Authority (PA) police and paramilitary forces, recently returned from US-sponsored training in Jordan, have fanned out around Jenin as part of a new security campaign to regain control of West Bank cities such as this one, which have been in disarray since the start of the Al Aqsa intifada nearly eight years ago.
But getting in their way, Palestinian officials charge, is an ongoing series of Israeli army raids here, in nearby Nablus, and elsewhere in the West Bank. While uniformed Palestinian police may look as if they're in control by day, when the clock strikes midnight, the Israeli army comes out to arrest and sometimes assassinate militants on its wanted list.
"The impact of such a situation is that the Israelis come in to shoot and to arrest, and this makes us lose credibility because people feel that we can't protect them," says Lt. Yaeesh Danoof, who oversees a key checkpoint leading into Jenin, as his men watch for unlicensed guns and stolen cars.
---