In Israel, a nation mourns with the families of slain soldiers
Two soldiers whose remains were part of a prisoner swap with Hezbollah were eulogized Thursday amid ongoing unease over the exchange and questions about balancing family interests with those of the state.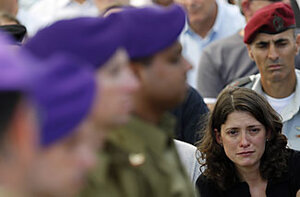 Ronen Zvulun/Reuters
For Israelis, their Second Lebanon War, fought in summer 2006, came to a close only on Thursday, when the two soldiers whose capture became the cause for launching the conflict were laid to rest before their families and the eyes of a solemn nation.
But even in their return – which transpired a day earlier as part of a swap with Hezbollah, who traded the men's bodies for the remains of some 200 Lebanese plus five Lebanese prisoners – there is still unease about the lopsided trade-off and questions about balancing the interests of affected families against those of the state.
Under a sweltering July sky at the Nahariya military cemetery, which overlooks the same Mediterranean that hugs the Beirut coastline where Hezbollah continued victory celebrations Thursday, many family members and friends who eulogized "Udi" – Ehud Goldwasser – seemed to want to shift the sentiment that Israel had somehow lost to Hezbollah.
"I stand at attention before you with my eyes lifted toward my people with the request: Stand tall, lift your heads in national pride," mother Miki Goldwasser said at her son's graveside.
"They say because of you, a war broke out. I hope we can see this war as a victory. Through this, we have discovered that we are a strong people. We have discovered bereaved families with an undefeatable, powerful spirit. We have discovered kindness."
The most powerful words to the gathering of a few thousand came from widow Karnit Goldwasser, who has been the spokeswoman of an international campaign to release her husband and Eldad Regev, then believed to be alive.
---