Soaring inflation undermines sustainability of Persian Gulf region
States scramble to protect themselves from skyrocketing energy costs, but measures such as government subsidies are proving ineffective.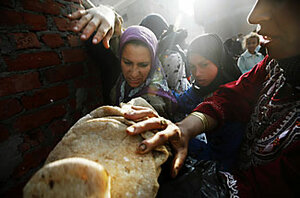 Holly Pickett/Rapport/Newscom
Just as Persian Gulf cities such as Dubai and Abu Dhabi were becoming synonymous with excess and success, the Gulf boom is in danger of going bust. Instead of conjuring images of towering skyscrapers and indoor ski slopes, they are struggling with soaring inflation rates. Indeed, the Gulf region may want to position itself at the center of global capitalism, but it will first have to contend with the impact that skyrocketing energy costs and a cooling global economy are having on the local economy and the impoverished migrant labor force that bears the brunt of rising oil and food costs.
High inflation is causing concern among policymakers in the Gulf Cooperation Council (GCC), a regional organization that includes Saudi Arabia, Kuwait, Bahrain, Qatar, Oman, and the United Arab Emirates (UAE).
---